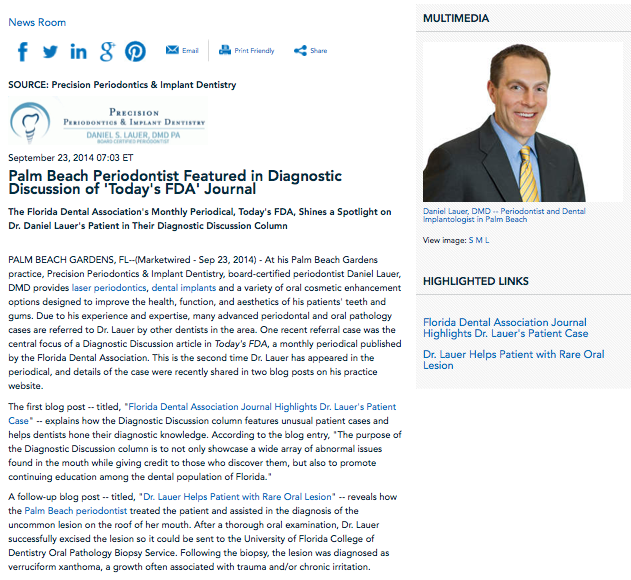 The Florida Dental Association's monthly periodical, Today's FDA, shines a spotlight on Dr. Daniel Lauer's patient in their Diagnostic Discussion column.
Palm Beach Gardens, FL – At his Palm Beach Gardens practice, Precision Periodontics & Implant Dentistry, board-certified periodontist Daniel Lauer, DMD provides laser periodontics, dental implants and a variety of oral cosmetic enhancement options designed to improve the health, function, and aesthetics of his patients' teeth and gums. Due to his experience and expertise, many advanced periodontal and oral pathology cases are referred to Dr. Lauer by other dentists in the area. One recent referral case was the central focus of a Diagnostic Discussion article in Today's FDA, a monthly periodical published by the Florida Dental Association. This is the second time Dr. Lauer has appeared in the periodical, and details of the case were recently shared in two blog posts on his practice website.
The first blog post – titled, "Florida Dental Association Journal Highlights Dr. Lauer's Patient Case" – explains how the Diagnostic Discussion column features unusual patient cases and helps dentists hone their diagnostic knowledge. According to the blog entry, "The purpose of the Diagnostic Discussion column is to not only showcase a wide array of abnormal issues found in the mouth while giving credit to those who discover them, but also to promote continuing education among the dental population of Florida."
A follow-up blog post – titled, "Dr. Lauer Helps Patient with Rare Oral Lesion" – reveals how the Palm Beach periodontist treated the patient and assisted in the diagnosis of the uncommon lesion on the roof of her mouth. After a thorough oral examination, Dr. Lauer successfully excised the lesion so it could be sent to the University of Florida College of Dentistry Oral Pathology Biopsy Service. Following the biopsy, the lesion was diagnosed as verruciform xanthoma, a growth often associated with trauma and/or chronic irritation.
Dr. Lauer is honored to have once again been recognized by the Florida Dental Association's journal for his contributions to the dental field. He says the Diagnostic Discussion column is an excellent way to share important diagnostic information within the dental community, which he believes can ultimately improve the level of care patients are able to receive.
About Daniel Lauer, DMD
Dr. Lauer is a board-certified periodontist and dental implantologist practicing in Palm Beach Gardens, FL. He received his dental degree from the University of Florida College of Dentistry and completed a residency in periodontics and implantology at New York University. His practice offers many services, including laser periodontal treatment, dental implant procedures, and laser orthodontic therapies. Dr. Lauer's research in geriatrics was recognized by the International Association of Dental Research, and his work was published in the Special Care in Dentistry journal. He is a Diplomate of the American Board of Periodontology as well as an active member of the American Dental Association and the American Academy of Periodontology. Dr. Lauer is available for interview upon request.
To learn more about Dr. Lauer, please visit precisionperio.com and facebook.com/PrecisionPerio.
Contact:
Precision Periodontics & Implant Dentistry
11380 Prosperity Farms Rd.
Suite E-121
Palm Beach Gardens, FL 33410
(561) 775-0331
Rosemont Media
(858) 200-0044
www.rosemontmedia.com