Here at Precision Periodontics & Implant Dentistry, we pride ourselves on offering advanced periodontal and dental implant procedures that lead to exemplary results – the kind that can often only be obtained from a specialist. Dr. Daniel Lauer is a board-certified periodontist who has helped hundreds of patients renew the health of their gums and enhance the appearance of their smiles. In fact, many of our patients have volunteered to share their success stories here on our website. These personal stories can help you learn more about the potential for certain procedures, in addition to the experiences of others here at our practice.
Please take a look at some of our patients' personal stories, and contact us today for more information. We will be happy to answer any questions you may have, or set up an appointment for you with Dr. Lauer.
Video Testimonials
"I Think Dr. Lauer is A Terrific Guy & Dentist"
Richie talks about coming to see us for years for his routine cleanings and extensive bridge work and reflects on his positive experiences with Dr. Lauer & staff.
"Dr. Lauer Made Me Feel Comfortable"
Janice describes her apprehension with going to the dental office and shares how her experience with Dr. Lauer was comfortable and essentially anxiety-free.
"I Highly Recommend Dr. Daniel Lauer without Exception"
A patient of ours shares his initial feelings of unease about the periodontal work that he needed done before deciding to consult with Dr. Lauer.
"I Am So Lucky To Have Come Into Contact with Dr. Daniel Lauer"
Rose shares her gratitude for the results achieved for her by Dr. Lauer and staff. As she explains, her experience is always pain-free and wonderful.
"Dr Daniel Lauer is a Specialist in Dental Implants & Extractions"
Ruth explains her pain-free experience with dental implants performed by Dr. Lauer after she was referred to him by her regular dentist.
"I Had An Excellent Experience Across The Board"
Craig, a patient of Dr. Lauer's, recounts his positive experiences at Precision Periodontics over the past 8 years.
"I Am Always Impressed with his Thorough Nature & Excellent Patient Care"
Larry talks about coming to see Dr. Lauer for several years and is always impressed with Dr. Lauer's thoroughness as well as his overall patient care.
"It is Clear That He Cares About His Patients and Their Health"
This patient is impressed with the professionalism and expertise of Dr. Lauer and the entire staff and is happy she decided to seek treatment.
Written Testimonials
"Excellent" is my rating on Dr. Lauer for my implant procedure.
From the first visit I felt comfortable with him and his wonderful staff, and I liked the fact that he has state-of-the-art equipment and super clean rooms. At the time of my procedure he was gentle and responsive to my needs, while performing his job with utmost efficiency. Good teamwork between him and surgical assistant. The procedure was pain-free and even afterwards I was pain-free the remainder of the day and night, and days following. Dr. Lauer possesses a genuine caring quality, even calling (personally) at the end of the day to check up on me. I was very impressed, as doctors don't take the time for that these days. I would highly recommend Dr. Lauer for an implant procedure, and would not hesitate going to him for any other procedures he performs.

Connie J.
Dear Dr. Lauer,
There is nothing that could be improved from the reception area, the overall cleanliness and the level of professionalism from everyone that I have dealt with. Of course a medical office should always provide this but it is surprising that they don't. I would just like to congratulate you and your staff on running such a first class business.

Ted D.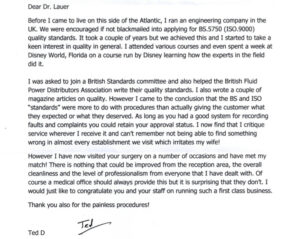 As a retired anesthesiologist I have seen many surgeons operate and I recognize that Dr. Lauer is an excellent one. I have been his patient as has my wife and I can testify that he is a gifted surgeon. His staff is caring and compassionate and very professional.
I would not hesitate to recommend him to my family and friends.
Dr. Abe Szmukler
My first appointment with Dr. Daniel Lauer was in 2007. I was searching for a periodontist and ended-up with the best periodontist I've ever had. Dr. Lauer is very professional, caring and concerned about all my dental needs and always available to see me when I've had emergencies. His employees are wonderful. Together, the entire team makes each visit very pleasant and relaxing. They are the best!!!
Cookie B.
When my wife Paula and I first visited Dr. Lauer's office we each had several major dental problems and concerns. After a complete dental exam and X-rays Dr. Lauer helped us, with his friendly and competent guidance, develop a comprehensive plan to solve out dental issues. Dr. Lauer now has us on a recall every 6 months for an exam and dental cleaning. This maintenance plan will help us avoid any major dental problems. We have found Dr. Lauer to be a fine professional and willing to go the extra mile to help his patients. Without his guidance and help we would still be wandering from one dental office to another. We find each visit to Dr. Lauer's office to be very pleasant due to the friendly atmosphere provided by him and his staff.
Sal P.
I had been to several dental offices prior, but the care and compassion I received at the office of Dr Lauer was exceptional. The staff was very well trained, and the assistants demonstrated sound dental knowledge with understanding of my issues. Dr Lauer developed the treatment plan with individuality and expertise. The outcome was excellent. I would not hesitate to refer others to this office.
Thank you Dr Lauer, for making the visits pleasurable, affordable, and painless.
Regards
Dr. Rupesh Dharia
Dr. Lauer was really helpful with my complicated dental issues. At the end of my treatment, I had an amazing result and I was able to avoid oral surgery. Dr. Lauer is compassionate, intelligent and skillful. Not only is he a great periodontist; he also has a great support staff. The work he did far exceeded my expectations.

Dr. William Gans
Your communicating of my needs and your follow up
after the procedure put me in a comfort zone. Certainly the staff in your office is a big plus in making my visit an easy experience. Great appreciation in receiving the ultimate care and
total package a patient should expect.
Many thanks,
Ike B.
I am the fortunate one to have been recommended by my dentist  to see Dr. Lauer for his opinion on a dental issue. Not only did Dr. Lauer address the problem,  but he was thorough in his explanation, gentle in his dental work and exceptional in his dental manner.  His staff is friendly, gracious and knowledgeable.  I would give Dr. Lauer and his staff a 5 star rating!
Thank you, Dr. Lauer and wonderful staff!
Renee E.

I couldn't be more pleased than to endorse and recommend Dr. Lauer for periodontal care and surgery. I recently had gum surgery that I'd dreaded and put off for years. Not only was the procedure completely painless; but I had no pain and minimal discomfort during the healing process because Dr. Lauer utilized the most recent technologies, along with his superior surgical skills. Saved several teeth and eliminated sensitivities I'd had prior to the procedure. His staff is great as well.
I would highly recommend Dr. Lauer!
Stew S. – Jupiter Florida
Thank you for helping my teeth look better and nicer! I loved going to see you when I had to. You all are very funny! I miss seeing all of you very much!
Leila K.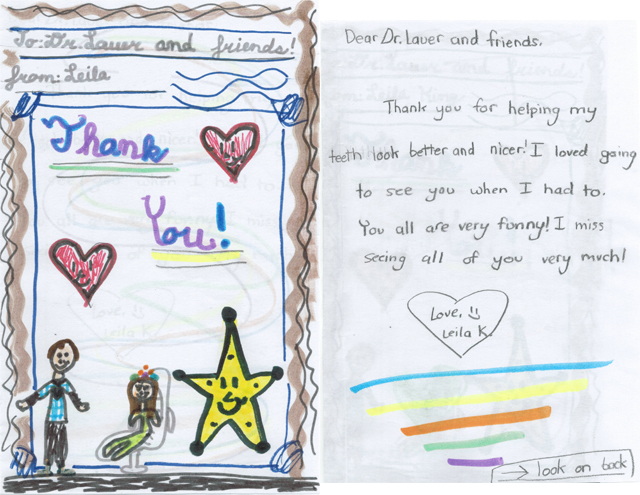 I have been a patient of Dr Lauer's for over six years. It gives me a great deal of comfort to know when I go to his office I can be confident I will receive the very best treatment available. He is very professional, caring, explains all of your options and answers all of your questions. His staff is phenomenal. They are friendly, efficient and go above and beyond to assist their patients. I would highly recommend Precision Periodontics and Implant Dentistry to my friends and neighbors.
Arlene M., Jupiter, FL