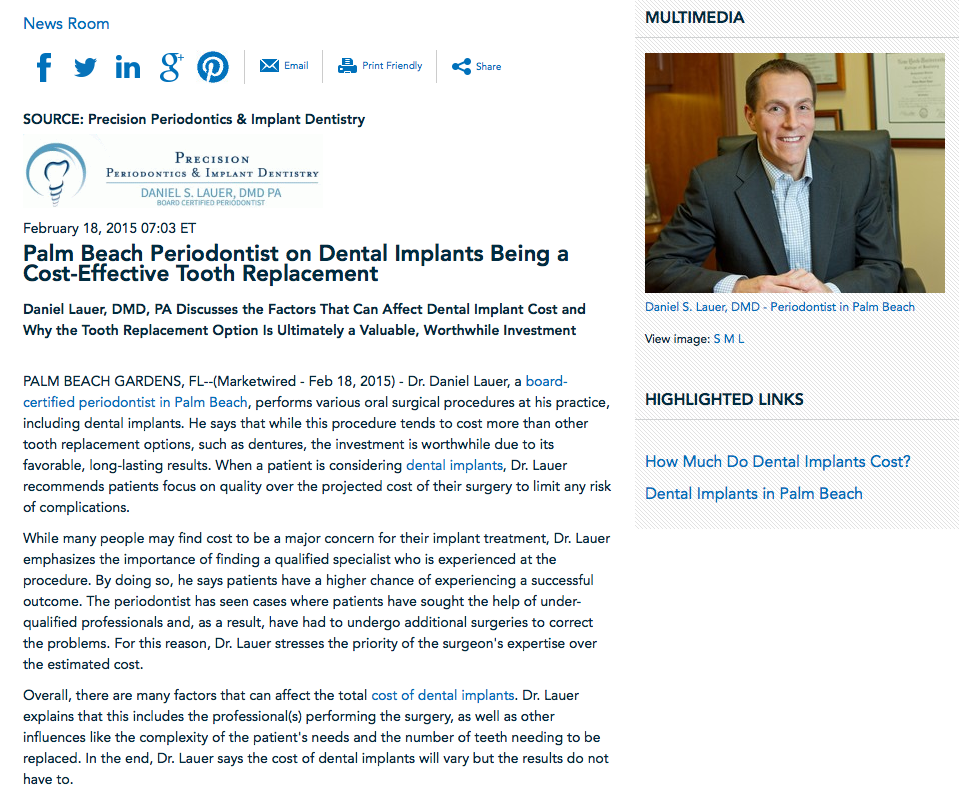 Daniel Lauer, DMD, PA discusses the factors that can affect dental implant cost and why the tooth replacement option is ultimately a valuable, worthwhile investment.
Palm Beach Gardens, FL – Dr. Daniel Lauer, a board-certified periodontist in Palm Beach, performs various oral surgical procedures at his practice, including dental implants. He says that while this procedure tends to cost more than other tooth replacement options, such as dentures, the investment is worthwhile due to its favorable, long-lasting results. When a patient is considering dental implants, Dr. Lauer recommends patients focus on quality over the projected cost of their surgery to limit any risk of complications.
While many people may find cost to be a major concern for their implant treatment, Dr. Lauer emphasizes the importance of finding a qualified specialist who is experienced at the procedure. By doing so, he says patients have a higher chance of experiencing a successful outcome. The periodontist has seen cases where patients have sought the help of under-qualified professionals and, as a result, have had to undergo additional surgeries to correct the problems. For this reason, Dr. Lauer stresses the priority of the surgeon's expertise over the estimated cost.
Overall, there are many factors that can affect the total cost of dental implants. Dr. Lauer explains that this includes the professional(s) performing the surgery, as well as other influences like the complexity of the patient's needs and the number of teeth needing to be replaced. In the end, Dr. Lauer says the cost of dental implants will vary but the results do not have to.
He advises patients to seek a qualified specialist and not make cost the deciding factor for who performs the surgery. By doing so, Dr. Lauer says they can end up saving money in the long run that may have otherwise been spent fixing a poorly conducted procedure.
About Daniel S. Lauer, DMD
Dr. Lauer graduated with honors from the University of Florida, College of Dentistry, where his research in geriatrics was recognized by the International Association of Dental Research. He then trained in a periodontics and implantology residency at New York University. Dr. Lauer is certified by the American Board of Periodontology and is an active member of several medical organizations, including the American Academy of Periodontology and the Academy of Osseointegration. He is available for interview upon request.
The practice can be reached online at precisionperio.com and facebook.com/pages/Precision-Periodontics-Implant-Dentistry/611243338891349.
Contact:
Precision Periodontics & Implant Dentistry
11380 Prosperity Farms Rd.
Suite E-121
Palm Beach Gardens, FL 33410
(561) 775-0331
Rosemont Media
(858) 200-0044
www.rosemontmedia.com