Are Dental Implants Right for Me?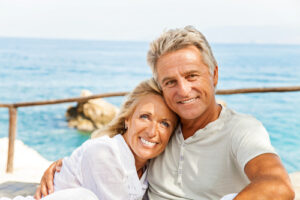 Dental implants are a permanent tooth replacement option that not only looks natural but also feels like your real teeth. When you come into Precision Periodontics and Implant Dentistry, Dr. Daniel Lauer will spend time with you to discuss your options for replacing one or more missing teeth. From dental bridges to dentures to implants, he believes you should be fully informed about your choices so you can make the right decision for your individual needs. As part of this process, Dr. Lauer will perform a comprehensive oral examination to determine whether or not you may be a good candidate for dental implants.
One of the most important aspects of implant candidacy is having adequate jawbone density. Since a titanium post is surgically placed where your tooth root would be, your jaw must fuse with the material to create a stable foundation for the implant's crown. If you prove to not have enough jawbone available, Dr. Lauer may recommend either bone grafting to increase your chances of a successful implant surgery or an alternative solution.
Another factor that can affect your dental implant results is your overall health. You may not be a good candidate for the procedure if you suffer from a medical condition that complicates healing from surgery. Similarly, dental implants are not ideal if you are currently undergoing radiation or chemotherapy, as these treatment methods can cause problems with blood clotting and fighting off infection.
If you are interested in dental implants, and would like to learn if you are a good candidate for the advanced solution, please contact us to schedule your consultation with Dr. Lauer.
Contact Us