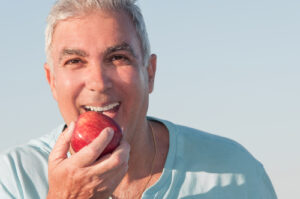 When you have a missing tooth that needs to be replaced, you have different options from which to choose. It's only when you fully understand the pros and cons of each solution that you can make an informed decision about your restoration. A common confusion among patients seeking a tooth replacement is whether to get a fixed bridge or dental implant. Dr. Daniel Lauer encourages people to thoroughly discuss each option with their dentist to learn which is better for their individual needs.
A dental bridge typically involves two or more crowns for the teeth surrounding a gap, with a false tooth in the middle. This option makes a great alternative for those who are not considered good candidates for dental implants. Unfortunately, bridges are a three-tooth solution to a one-tooth problem, which requires altering healthy teeth to support the bridge. As a result, this solution could potentially lead to future issues.
Dental implants, on the other hand, are individual restorations. The procedure involves a small titanium rod being surgically implanted into the jaw, on top of which a crown is attached. While they often have a higher cost up-front, dental implants typically have a better long-term value, since they don't decay and usually don't need to be replaced.
Despite the solution you choose, Dr. Lauer stresses the importance of learning about your different options before committing to a bridge or implant. If you would like more information about how you can replace a missing tooth, please contact Precision Periodontics and Implant Dentistry.