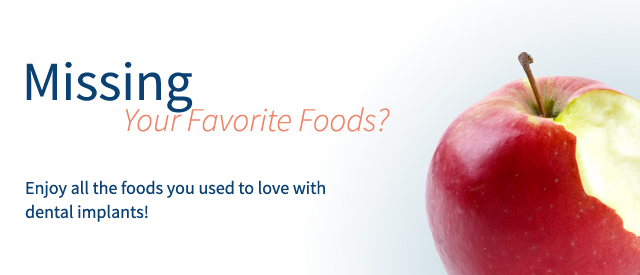 With dental implants from Dr. Daniel Lauer, you can permanently replace missing teeth with results that look and feel natural. Dental implants are some of the most revolutionary advances in modern dentistry, eliminating many of the problems associated with other teeth replacement options, such as traditional dentures. A dental implant actually becomes part of your mouth, serving the same function as your natural tooth. This effective treatment option can ultimately improve the function of your teeth while enhancing the appearance of your smile.
Dr. Lauer is a specialist in Implantology and utilizes some of the most advanced dental implant technology available. This includes state-of-the-art Guided Implant Surgery and precise digital mapping to give you the most natural-fitting implant possible. Our dental implant procedures can help you achieve your goals with exceptional results.
Please contact our practice to schedule a dental implant consultation with Dr. Lauer. He will be happy to answer all of your questions.
"I Think Dr. Lauer is A Terrific Guy & Dentist"
Richie talks about coming to see us for years for his routine cleanings and extensive bridge work and reflects on his positive experiences with Dr. Lauer & staff.
Benefits of Dental Implants
Dental implants offer a number of benefits and advantages for patients who have lost one or more natural teeth, including: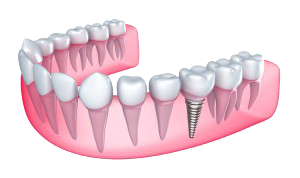 Permanent restoration of missing teeth
Results look and feel like natural teeth
Other than routine brushing and flossing, there is no daily maintenance necessary
No movement or slippage along the gums
Can prevent altered facial contours or a "sunken" appearance that is sometimes caused by missing teeth
No messy dental adhesives like those often required with traditional dentures
Improved ability to chew and speak
Improved appearance of your teeth
You can smile and laugh without feelings of self-consciousness
Dental implants can be used to replace a single tooth or multiple teeth. They can also be helpful for patients who would like to add support and stability to traditional bridges and dentures. There are a number of dental implant options that can help you meet your individual needs.
Are You a Candidate for Dental Implants?
During your initial consultation with Dr. Lauer, he will talk with you about your goals and give you a comprehensive oral evaluation to determine if you are a good candidate for dental implants. Candidates for this procedure typically include:
Patients with missing teeth who are looking for a permanent alternative to traditional teeth replacement methods
Patients who have good jawbone density in order to accommodate the implant
Patients who are not suffering from a disease or condition which may prevent an adequate healing process after implantation
Patients who are not currently undergoing radiation or chemotherapy treatment
For patients who may not completely meet the factors for candidacy listed above, there are alternatives to a full dental implant procedure which may be helpful, as well as treatments to potentially make them a good candidate, such as bone grafting and ridge augmentation. Dr. Lauer will go over all of your options at your initial consultation.
I had 2 dental implants placed a couple of months ago by Dr. Lauer. The outcome was great! I'm much happier with how my teeth look in pictures now, which is great because I'm getting married in a few months.
The Dental Implants Procedure
Once you are evaluated and Dr. Lauer has determined that you are a candidate for dental implants, he will use Guided Implant Surgery technology to ensure the most comfortable and natural-looking placement of the dental implant (or implants).
Once the implant is ready to place, treatment will be given in the following stages:
Stage 1 – Implant Placement
Dental implants are durable titanium artificial tooth roots that are connected to the jawbone. Dr. Lauer will place the implant inside the gum in the area of the missing tooth, and it will be anchored to the bone. Over the next few months, the implant will fuse itself to the bone – actually becoming a part of your mouth, like a natural tooth. During this process, a temporary crown can sometimes be placed on top of the implant for greater comfort and aesthetic improvement.
Implant placement is typically performed with a local anesthetic applied to the treatment areas. You can also opt for one of our sedation dentistry techniques in order to feel as relaxed as possible during treatment.
Stage 2 – Crown Placement
Dr. Lauer will examine the progress of the implant during the fusion process to determine when it is properly fused to the jawbone. Once this has occurred, and the area around the implant has healed, you are ready to be fitted for a permanent dental crown from your general dentist. When your dental crown has been created, your dentist will attach it to the implant and the procedure will be complete.
The permanent crown is custom-made to provide you with the most functionally and aesthetically perfect fit possible. The result? A brand new tooth (or set of teeth) that looks and feels like natural teeth. In fact, you may not be able to tell the difference between the implants and your actual teeth!
Contact Precision Periodontics & Implant Dentistry
If you have any questions about dental implants, such as the dental implant cost or which procedure is right for you, please contact Precision Periodontics & Implant Dentistry to schedule a consultation with Dr. Lauer.