West Palm Beach Periodontist Sponsors 9th Annual PGA National Women's Cancer Awareness Days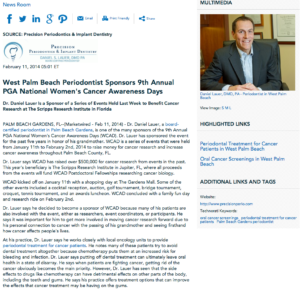 Dr. Daniel Lauer is a sponsor of a series of events held last week to benefit cancer research at The Scripps Research Institute in Florida.
Palm Beach Gardens, FL – Dr. Daniel Lauer, a board-certified periodontist in Palm Beach Gardens, is one of the many sponsors of the 9th Annual PGA National Women's Cancer Awareness Days (WCAD). Dr. Lauer has sponsored the event for the past five years in honor of his grandmother. WCAD is a series of events that were held from January 11th to February 2nd, 2014 to raise money for cancer research and increase cancer awareness throughout Palm Beach County, FL.
Dr. Lauer says WCAD has raised over $500,000 for cancer research from events in the past. This year's beneficiary is The Scripps Research Institute in Jupiter, FL, where all proceeds from the events will fund WCAD Postdoctoral Fellowships researching cancer biology.
WCAD kicked off on January 11th with a shopping day at The Gardens Mall. Some of the other events included a cocktail reception, auction, golf tournament, bridge tournament, croquet, tennis tournament, and an awards luncheon. WCAD concluded with a family fun day and research ride on February 2nd.
Dr. Lauer says he decided to become a sponsor of WCAD because many of his patients are also involved with the event, either as researchers, event coordinators, or participants. He says it was important for him to get more involved in moving cancer research forward due to his personal connection to cancer with the passing of his grandmother and seeing firsthand how cancer affects people's lives.
At his practice, Dr. Lauer says he works closely with local oncology units to provide periodontal treatment for cancer patients. He notes many of these patients try to avoid dental treatment altogether because chemotherapy puts them at an increased risk for bleeding and infection. Dr. Lauer says putting off dental treatment can ultimately leave oral health in a state of disarray. He says when patients are fighting cancer, getting rid of the cancer obviously becomes the main priority. However, Dr. Lauer has seen that the side effects to drugs like chemotherapy can have detrimental effects on other parts of the body, including the teeth and gums. He says his practice offers treatment options that can improve the effects that cancer treatment may be having on the gums.
Dr. Lauer says it is very important for everyone to maintain regular comprehensive dental exams that are inclusive of oral cancer screenings. He notes oral cancer can evolve relatively quickly, and without overt symptoms. Dr. Lauer says the earlier cancer is detected, the better the chance for successful treatment and survival. He recommends everyone look for signs of abnormalities in their mouth or on their tongue at least once every month, and to immediately go to a skilled periodontist to have any abnormalities checked out.
Dr. Lauer looks forward to continuing to contribute to WCAD in years to come.
About Daniel S. Lauer, DMD
Dr. Daniel Lauer is a board-certified periodontist and dental implantologist. He received education and training from the University of Florida College of Dentistry and New York University. Dr. Lauer's research work has won accolades from the International Association of Dental Research and recognition by the renowned dental journal, Special Care in Dentistry. He is a member of a number of respected professional organizations, including the American Board of Periodontology, American Academy of Periodontology, and the American Dental Association. Dr. Lauer is available for interview upon request.
The practice can be reached online at precisionperio.com
and facebook.com/pages/Precision-Periodontics-Implant-Dentistry/611243338891349
Contact:
Precision Periodontics & Implant Dentistry
11380 Prosperity Farms Rd.
Suite E-121
Palm Beach Gardens, FL 33410
(561) 775-0331
Rosemont Media
[email protected]
(858) 200-0044
www.rosemontmedia.com
Contact Us