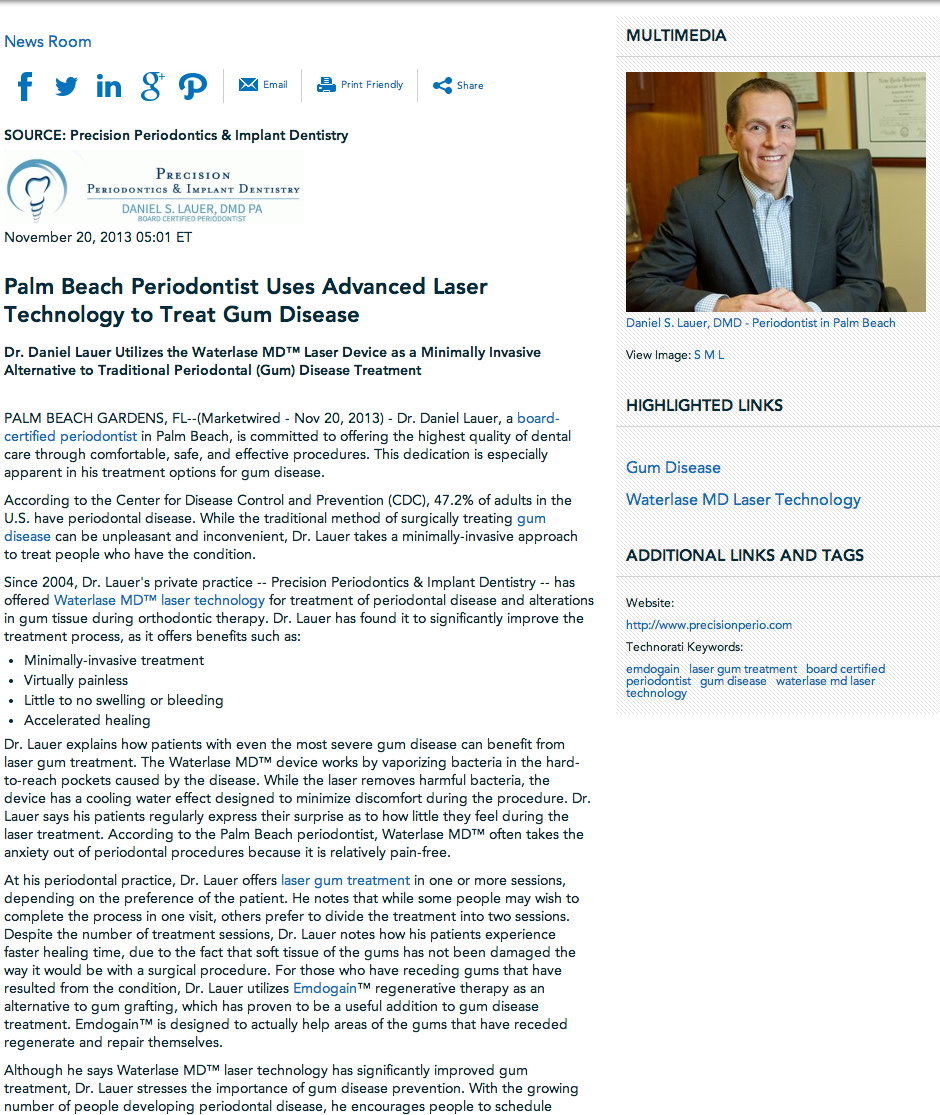 Dr. Daniel Lauer utilizes the Waterlase MD™ laser device as a minimally invasive alternative to traditional periodontal (gum) disease treatment.
Palm Beach Gardens, FL – Dr. Daniel Lauer, a board-certified periodontist in Palm Beach, is committed to offering the highest quality of dental care through comfortable, safe, and effective procedures. This dedication is especially apparent in his treatment options for gum disease.
According to the Center for Disease Control and Prevention (CDC), 47.2% of adults in the U.S. have periodontal disease. While the traditional method of surgically treating gum disease can be unpleasant and inconvenient, Dr. Lauer takes a minimally-invasive approach to treat people who have the condition.
Since 2004, Dr. Lauer's private practice – Precision Periodontics & Implant Dentistry – has offered Waterlase MD™ laser technology for treatment of periodontal disease and alterations in gum tissue during orthodontic therapy. Dr. Lauer has found it to significantly improve the treatment process, as it offers benefits such as:
Minimally-invasive treatment
Virtually painless
Little to no swelling or bleeding
Accelerated healing
Dr. Lauer explains how patients with even the most severe gum disease can benefit from laser gum treatment. The Waterlase MD™ device works by vaporizing bacteria in the hard-to-reach pockets caused by the disease. While the laser removes harmful bacteria, the device has a cooling water effect designed to minimize discomfort during the procedure. Dr. Lauer says his patients regularly express their surprise as to how little they feel during the laser treatment. According to the Palm Beach periodontist, Waterlase MD™ often takes the anxiety out of periodontal procedures because it is relatively pain-free.
At his periodontal practice, Dr. Lauer offers laser gum treatment in one or more sessions, depending on the preference of the patient. He notes that while some people may wish to complete the process in one visit, others prefer to divide the treatment into two sessions. Despite the number of treatment sessions, Dr. Lauer notes how his patients experience faster healing time, due to the fact that soft tissue of the gums has not been damaged the way it would be with a surgical procedure. For those who have receding gums that have resulted from the condition, Dr. Lauer utilizes Emdogain™ regenerative therapy as an alternative to gum grafting, which has proven to be a useful addition to gum disease treatment. Emdogain™ is designed to actually help areas of the gums that have receded regenerate and repair themselves.
Although he says Waterlase MD™ laser technology has significantly improved gum treatment, Dr. Lauer stresses the importance of gum disease prevention. With the growing number of people developing periodontal disease, he encourages people to schedule regular dental visits to preserve healthy teeth and prevent the serious adverse effects of gum disease.
About Daniel S. Lauer, DMD
Dr. Daniel Lauer received his undergraduate degree from the University of Michigan, completed his doctorate training from the University of Florida – College of Dentistry and completed a residency in periodontics and implantology at New York University. He has also completed additional training and advanced certification for the Waterlase MD™, and has lectured on its advanced potential to fellow dental professionals. Dr. Lauer is a Diplomate of the American Board of Periodontology and is a member of several prominent dental organizations, including the American Academy of Periodontology, the Academy of Osseointegration, and the American Dental Association. Dr. Lauer is available for interview upon request.
The practice can be reached online at precisionperio.com
and facebook.com/pages/Precision-Periodontics-Implant-Dentistry/611243338891349
Contact:
Precision Periodontics & Implant Dentistry
11380 Prosperity Farms Rd.
Suite E-121
Palm Beach Gardens, FL 33410
(561) 775-0331
Rosemont Media
tom@rosemontmedia.com
(858) 200-0044
www.rosemontmedia.com