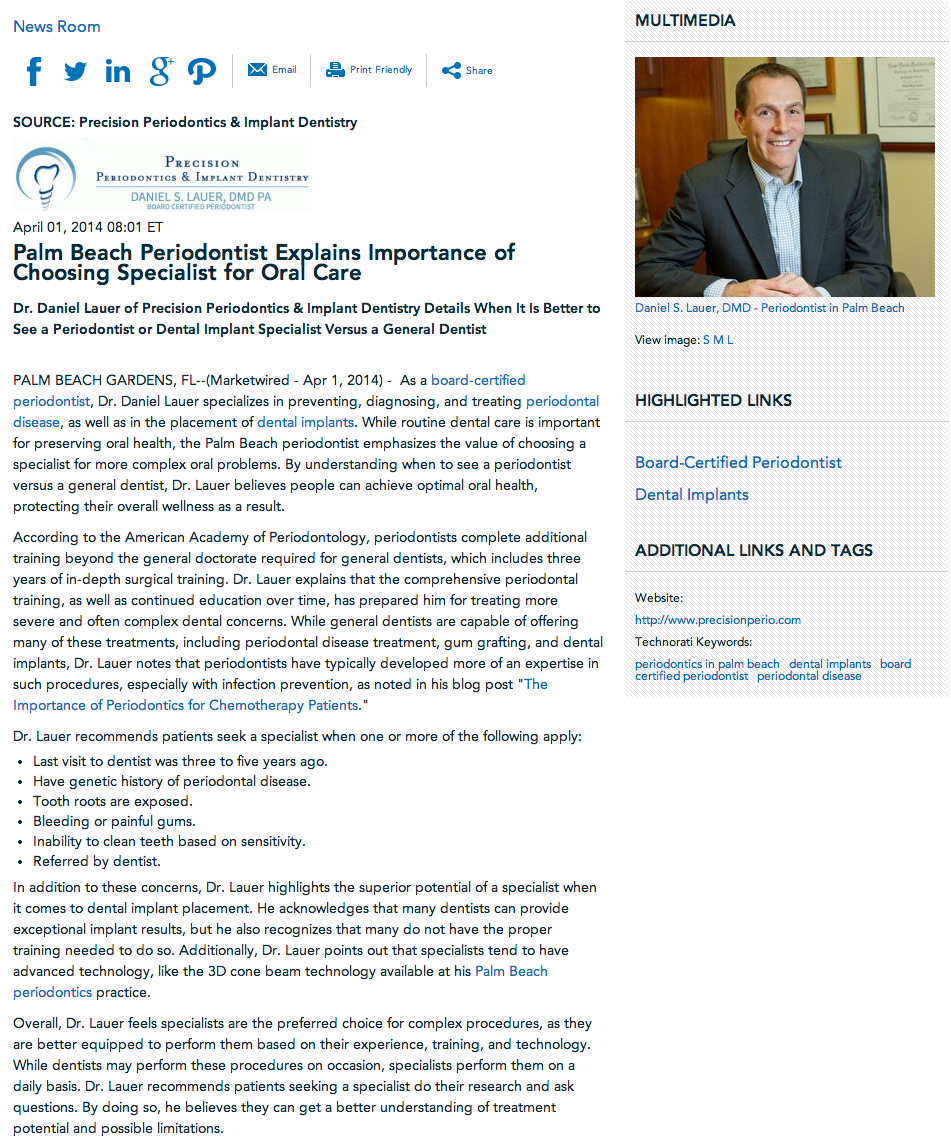 Dr. Daniel Lauer of Precision Periodontics & Implant Dentistry details when it is better to see a periodontist or dental implant specialist versus a general dentist.
Palm Beach Gardens, FL – As a board-certified periodontist, Dr. Daniel Lauer specializes in preventing, diagnosing, and treating periodontal disease, as well as in the placement of dental implants. While routine dental care is important for preserving oral health, the Palm Beach periodontist emphasizes the value of choosing a specialist for more complex oral problems. By understanding when to see a periodontist versus a general dentist, Dr. Lauer believes people can achieve optimal oral health, protecting their overall wellness as a result.
According to the American Academy of Periodontology, periodontists complete additional training beyond the general doctorate required for general dentists, which includes three years of in-depth surgical training. Dr. Lauer explains that the comprehensive periodontal training, as well as continued education over time, has prepared him for treating more severe and often complex dental concerns. While general dentists are capable of offering many of these treatments, including periodontal disease treatment, gum grafting, and dental implants, Dr. Lauer notes that periodontists have typically developed more of an expertise in such procedures, especially with infection prevention, as noted in his blog post "The Importance of Periodontics for Chemotherapy Patients."
Dr. Lauer recommends patients seek a specialist when one or more of the following apply:
Last visit to dentist was three to five years ago.
Have genetic history of periodontal disease.
Tooth roots are exposed.
Bleeding or painful gums.
Inability to clean teeth based on sensitivity.
Referred by dentist.
In addition to these concerns, Dr. Lauer highlights the superior potential of a specialist when it comes to dental implant placement. He acknowledges that many dentists can provide exceptional implant results, but he also recognizes that many do not have the proper training needed to do so. Additionally, Dr. Lauer points out that specialists tend to have advanced technology, like the 3D cone beam technology available at his Palm Beach periodontics practice.
Overall, Dr. Lauer feels specialists are the preferred choice for complex procedures, as they are better equipped to perform them based on their experience, training, and technology. While dentists may perform these procedures on occasion, specialists perform them on a daily basis. Dr. Lauer recommends patients seeking a specialist do their research and ask questions. By doing so, he believes they can get a better understanding of treatment potential and possible limitations.
About Daniel S. Lauer, DMD
Dr. Daniel Lauer is board certified by the American Academy of Periodontology. He attended the University of Florida College of Dentistry, where he graduated with honors and was recognized by the International Association of Dental Research for his research in geriatrics. Dr. Lauer then completed a residency in surgical training at New York University that covered periodontics and implantology. He is a Diplomate of the American Board of Periodontology and is an active member of such organizations as the Academy of Osseointegration, the American Dental Association, and the Florida Dental Association. Dr. Lauer is available for interview upon request.
The practice can be reached online at precisionperio.com
and facebook.com/pages/Precision-Periodontics-Implant-Dentistry/611243338891349
Contact:
Precision Periodontics & Implant Dentistry
11380 Prosperity Farms Rd.
Suite E-121
Palm Beach Gardens, FL 33410
(561) 775-0331
Rosemont Media
tom@rosemontmedia.com
(858) 200-0044
www.rosemontmedia.com