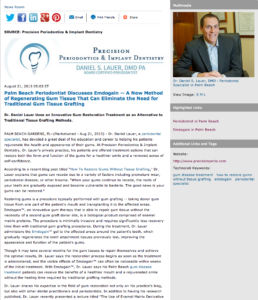 Dr. Daniel Lauer uses an innovative gum restoration treatment as an alternative to traditional tissue grafting methods.
Palm Beach Gardens, FL – Dr. Daniel Lauer, a periodontal specialist, has devoted a great deal of his education and career to helping his patients rejuvenate the health and appearance of their gums. At Precision Periodontics & Implant Dentistry, Dr. Lauer's private practice, his patients are offered treatment options that can restore both the form and function of the gums for a healthier smile and a renewed sense of self-confidence.
According to a recent blog post titled "How To Restore Gums Without Tissue Grafting," Dr. Lauer explains that gums can recede due to a variety of factors including premature wear, periodontal disease, or other trauma. "When your gums continue to recede, the roots of your teeth are gradually exposed and become vulnerable to bacteria. The good news is your gums can be restored."
Restoring gums is a procedure typically performed with gum grafting – taking donor gum tissue from one part of the patient's mouth and transplanting it to the affected areas. Emdogain™, an innovative gum therapy that is able to repair gum tissue without the necessity of a second gum graft donor site, is a biological product comprised of enamel matrix proteins. The procedure is minimally invasive and requires significantly less recovery time than with traditional gum grafting procedures. During the treatment, Dr. Lauer administers the Emdogain™ gel to the affected areas around the patient's teeth, which gradually regenerates the tooth attachment tissues previously lost, improving the appearance and function of the patient's gums.
Though it may take several months for the gum tissues to repair themselves and achieve the optimal results, Dr. Lauer says the restoration process begins as soon as the treatment is administered, and the visible effects of Emdogain™ can often be noticeable within weeks of the initial treatment. With Emdogain™, Dr. Lauer says his Palm Beach gum disease treatment patients can receive the benefits of a healthier mouth and a rejuvenated smile without the healing time required by traditional grafting methods.
Dr. Lauer shares his expertise in the field of gum restoration not only on his practice's blog, but also with other dental practitioners and periodontists. In addition to having his research published, Dr. Lauer recently presented a lecture titled "The Use of Enamel Matrix Derivative in Hard and Soft Tissue Regeneration." The lecture, delivered at a seminar hosted by the Advanced Dental Seminars of Jacksonville this past February, discussed the technological advances in materials that have allowed for the regeneration of gum tissue in Dr. Lauer's patients who exhibit hard and soft tissue defects.
About Dr. Daniel S. Lauer, DMD
Dr. Daniel Lauer is a graduate of the University of Michigan in Ann Arbor and earned his dental degree at the University of Florida College of Dentistry. Dr. Lauer then went on to complete his advanced periodontal surgical residency at New York University. He is a board-certified periodontist who focuses on gum disease treatment, implant dentistry, and cosmetic gum rejuvenation at his Palm Beach Gardens practice. Dr. Lauer's work has been published in a variety of medical journals and he is known for his treatment of gum-related conditions caused by cancer therapies (a common side effect of chemotherapeutics). He is available for interview upon request.
For more information about Precision Periodontics & Implant Dentistry, visit precisionperio.com or facebook.com/PrecisionPerio.