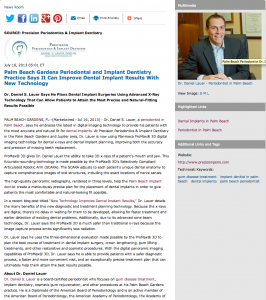 Dr. Daniel S. Lauer says he plans dental implant surgeries using advanced x-ray technology that can allow patients to attain the most precise and natural-fitting results possible.
Palm Beach Gardens, FL – Dr. Daniel S. Lauer, a periodontist in Palm Beach, says he embraces the latest in digital imaging technology to provide his patients with the most accurate and natural fit for dental implants. At Precision Periodontics & Implant Dentistry in the Palm Beach Gardens and Jupiter area, Dr. Lauer is now using Planmeca ProMax® 3D digital imaging technology for dental x-rays and dental implant planning, improving both the accuracy and precision of missing teeth replacement.
ProMax® 3D gives Dr. Daniel Lauer the ability to take 3D x-rays of a patient's mouth and jaw. This futuristic-sounding technology is made possible by the ProMax® 3D's Selectively Compliant Articulated Robotic Arm (SCARA). The SCARA adjusts to each patient's unique dental anatomy to capture comprehensive images of oral structures, including the exact locations of nerve canals.
The high-quality panoramic radiographs, rendered in three levels, help the Palm Beach implant dentist create a meticulously precise plan for the placement of dental implants in order to give patients the most comfortable and natural-looking fit possible.
In a recent blog post titled "New Technology Improves Dental Implant Results," Dr. Lauer details the many benefits of this new diagnostic and treatment planning technology. Because the x-rays are digital, there's no delay in waiting for them to be developed, allowing for faster treatment and earlier detection of existing dental problems. Additionally, due to its advanced cone beam technology, Dr. Lauer says the ProMax® 3D is much safer than traditional x-rays because the image capture process emits significantly less radiation.
Dr. Lauer says he uses the three-dimensional evaluation made possible by the ProMax® 3D to plan the best course of treatment in dental implant surgery, crown lengthening, gum lifting treatments, and other restorative and cosmetic procedures. With the digital panoramic imaging capabilities of ProMax® 3D, Dr. Lauer says he is able to provide patients with a safer diagnostic process, a faster and more convenient visit, and an exceptionally precise treatment plan that can ultimately help them attain the best results possible.
About Dr. Daniel Lauer
Dr. Daniel S. Lauer is a board-certified periodontist who focuses on gum disease treatment, implant dentistry, cosmetic gum rejuvenation, and other procedures at his Palm Beach Gardens practice. He is a Diplomate of the American Board of Periodontology and is an active member of the American Board of Periodontology, the American Academy of Periodontology, the Academy of Osseointegration, and the American Dental Association.
A graduate of the University of Michigan in Ann Arbor and the University of Florida College of Dentistry, Dr. Lauer completed his advanced periodontal surgical residency at New York University. He has been recognized by the International Association of Dental Research for his studies in geriatrics. Dr. Lauer's findings have been published in Special Care in Dentistry, the prestigious journal of the Special Care Dentistry Association, which is an organization dedicated to improving the oral health of patients with special needs. Dr. Lauer is also known for treating gum-related conditions caused by cancer therapies, a common side effect of chemotherapeutics. He is available for interview upon request.