What to Expect When Getting All of Your Teeth Replaced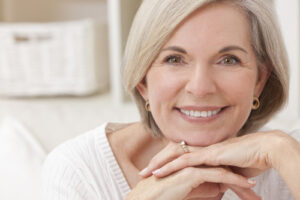 When a person is told they need to get all of their teeth replaced, this tends to evoke feelings of fear and anxiety. After all, you only get one set of teeth, and if you still have a few left—albeit severely damaged—you most likely want to save them for as long as possible. Unfortunately, this mindset is preventing many people with failing and missing teeth from obtaining a life-changing set of new teeth. Dr. Daniel Lauer, our double board-certified periodontist, is committed to educating patients on the impact of a full mouth teeth replacement, and how it can transform their oral function and appearance.
At Precision Periodontics & Implant Dentistry, Dr. Lauer is passionate about helping patients who have suffered for years from failing teeth improve their quality of life by getting completely new smiles, also known as "new teeth in a day." Although this concept of replacing all of one's teeth can be intimidating, Dr. Lauer discusses the procedure in detail with candidates to make sure they understand the significant benefits and feel confident about their decision to move forward.
Patients who choose to undergo a full mouth teeth replacement can expect the following in a three-step process:
Their mouth will be evaluated through 3D scans and impressions, which will allow Dr. Lauer to properly diagnose and plan their surgery.
Any remaining damaged teeth will be replaced with 4-6 dental implants (per arch) using a surgical guide for optimal precision. After the implants are placed, an impression is taken of the mouth for the creation of the full arch restoration.
The restoring dentist will attach the prosthesis to the implants, and this will be worn for 4-6 months until the implants have fused to the jawbone. At this point, the permanent teeth replacement is attached to the implants, comfortably fitting to the contours of the mouth.
All steps can typically be completed within 24 hours, helping you replace your teeth with as little inconvenience as possible. Before you know it, you'll be smiling, eating, interacting, and living without the embarrassment you once felt due to the look and feel of your teeth.
If you're interested in learning more about the full mouth teeth replacement process, please contact us to set up an appointment with Dr. Lauer.
Contact Us