Waterlase MD™ – Gentle Laser Treatment for Gum Disease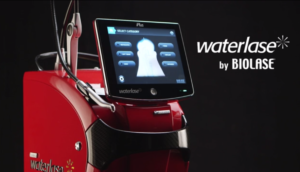 For more than eight years, Dr. Daniel Lauer has seen remarkable improvement in his patients who have gum disease, thanks to the award-winning Waterlase MD™ technology. This laser dentistry technology offers a gentle alternative to traditional, more invasive gum surgery. As a result, he has found that patients' anxiety is calmed, and they are more inclined to attaining the treatment they need.
Dr. Lauer notes how Waterlase MD™ eliminates the need for removing damaged gum tissue and instead works by vaporizing the bacteria without damaging surrounding, healthy tissues. The treatment is virtually pain-free, as a cooling water effect alleviates any discomfort associated with the laser energy. Patients often don't even realize the work is being done because of the non-invasive nature of the procedure.
Following the laser treatment, there is minimal to no swelling or bleeding. The healing process is often significantly faster, as gum tissue has not been damaged. In addition to treating gum disease, Waterlase MD™ also proves to be a great asset to orthodontic therapy, offering a safe laser alternative to more intimidating surgical options.
Stay tuned for our next blog post, where Dr. Lauer will discuss the potential of combining Waterlase MD™ with Emdogain™ for even greater results in combating the degeneration caused by gum disease.
To learn more about Waterlase MD™ and how it can gently treat your gum disease, please contact us today.
Contact Us