The condition of your teeth has a strong influence on your physical and emotional well-being. If they become severely damaged or are lost, you may experience the stress and discomfort from which many individuals suffer. To prevent failing teeth from affecting your life anymore than they already have, consider the extraordinary potential of a permanent full mouth teeth replacement.
At Precision Periodontics & Implant Dentistry, Dr. Daniel Lauer is proud to offer the option of obtaining a completely new smile in as little as one day. This permanent full mouth teeth replacement entails a set of new artificial teeth on a foundation of dental implants. The reconstructive procedure can effectively restore the form and function of your teeth and is a viable alternative to removable dentures.
Our team understands the fear associated with losing teeth, and we are committed to helping you find the best possible solution for your lifestyle. To learn if you are eligible for receiving new teeth in a day, please contact us to set up your appointment with our board-certified periodontist.
The Benefits of New Teeth in a Day
Obtaining a beautiful, healthy new smile in just 24 hours can be a dream come true for many individuals. However, the thought of replacing all of their teeth can also be intimidating. Despite this, it is important to recognize that dental problems have a way of gradually building up, and the more time that passes, the more difficult it is to achieve the function and aesthetics for which you desire. By replacing deteriorating or missing teeth, you can undergo the life-changing transformation with benefits that include:
Permanent teeth, not removable like a traditional denture
Saving money in the long-term by replacing teeth with excessive damage
Natural-looking teeth that you can be proud to show off
Improved self-esteem from your beautiful new smile
Ability to eat your favorite foods again
Are You a Candidate?
Although the need to replace multiple teeth is most common in older patients, failing or missing teeth can occur at any age. As a result, a permanent full mouth teeth replacement can be beneficial for a variety of candidates. Specific cases that may warrant the need for a new set of teeth includes:
Multiple missing teeth
Extensive damage from factors like gum disease
Depleted bone density in the jaw
Excessive dental work compromising the integrity of several teeth
The best way to know if you are eligible for new teeth in a day is to come in for an appointment with Dr. Lauer. During this visit, he can take 3D images to evaluate your bone health and determine if dental implants are a viable solution to support a full arch prosthesis.
The New Teeth in a Day Procedure
If a permanent full mouth teeth replacement proves to be the best solution for your needs, Dr. Lauer will move forward with planning your implant procedure. The entire process involves his collaboration with a skilled lab technician, as well as your general restoring dentist. Together, the team of experienced professionals can help you obtain a new smile in as little as 24 hours.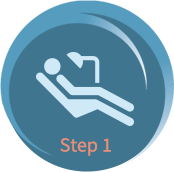 Dr. Lauer will begin the planning stages of your procedure by taking 3D images of your jaw and teeth using the Planmeca ProMax® technology. The cone beam scan digitally captures the structures in your mouth, which allows Dr. Lauer to determine the quantity and placement of your dental implants. With this detailed information, the lab technician can then fabricate the surgical guide to be used for optimal precision during your implant surgery.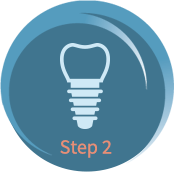 Before he can place your dental implants, Dr. Lauer will extract the few remaining teeth. Often in the same visit, while you are under oral sedation, he then places 4-6 implants on each arch, which will act as the permanent foundation for your new upper and lower dentures. Once the implants are in place, Dr. Lauer will take an impression of your mouth, which is sent to the lab for the creation of your full arch teeth replacement.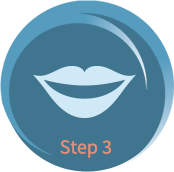 The next day, you will go to your general dentist, who should already have your newly crafted prosthesis. This is a temporary, yet non-removable teeth replacement that is attached to your implants and will be worn for 4-6 months. After this time, your jaw and implants should have undergone sufficient healing to act as a strong foundation for your permanent set of new teeth. This final prosthesis is skillfully crafted to fit perfectly on your implants and gum contour for maximum comfort and functionality.
Recovery from the Full Mouth Teeth Replacement
The recovery following a full mouth teeth replacement will differ from patient to patient. It is normal to experience swelling in the first couple days, but this should quickly fade. Any discomfort is typically minimal, though you can take pain medication to control this if necessary. Your diet will consist of eating soft foods for a few weeks until your jaw has had the ability to heal. After this, you should be able to eat all your favorite foods.
In the past, obtaining a permanent set of new teeth could take as long as six months to a year. With the latest advancements in technology, however, Dr. Lauer is able to complete the dental implant process in just 24 hours. Although you will still need to wait for your bone to heal before receiving your final prosthesis, the initial full mouth teeth replacement is not removable and, therefore, should not be uncomfortable or affect your nutrition.
Contact Precision Periodontics & Implant Dentistry
As a board-certified periodontal specialist, Dr. Lauer is highly equipped for even the most complex of cases. He encourages anyone suffering from oral problems like missing or decaying teeth to schedule an appointment at our office to not only find relief, but also prevent further damage from occurring.