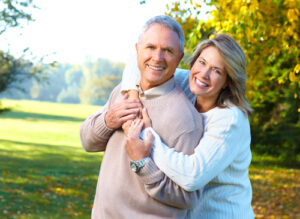 As we get older, many of us experience a decrease in our dental health. Although our instinct is to keep repairing each tooth as it becomes damaged, these teeth can gradually become weaker over time. When several of our teeth have decayed or become otherwise compromised, it is often more beneficial to replace the full arch. Traditionally, removable dentures have been used for this purpose, but by using dental implant technology, our board-certified periodontist, Dr. Daniel Lauer, is able to provide the more natural alternative of implant-supported dentures.
What Is All-on-4®?
All-on-4® is a treatment concept that uses four dental implants to anchor a full-arch denture to the jawbone. Two of the implants are placed at the front of the mouth, and the other two are placed towards the back at a slight angle. By tilting these posterior implant posts, there is optimal contact with the available jawbone.
Although the All-on-4® system traditionally utilizes four implants, Dr. Lauer may advise patients they may require anywhere from four to six, depending on the quality of their individual jawbone. If too few implants are used to support the denture, there is a higher risk of implant failure. By utilizing additional implants, such as in the "All-on-6" procedure, certain individuals are more likely to achieve a successful outcome.
What Can I Expect During My All-on-4® Procedure?
The All-on-4® procedure is customized to the finest details of each patient's anatomy and unique needs. Once an individual is considered a candidate for the technique, Dr. Lauer will begin the in-depth planning process. This will include evaluating their oral structures, determining the number of implants needed, and identifying preliminary work that may be necessary—such as bone grafting or tooth extraction. With this information, Dr. Lauer will have a surgical map fabricated to guide him throughout surgery, ensuring the utmost precision.
During the procedure, Dr. Lauer will carefully place the designated number of implants into their optimal locations and positions. Depending on the patient's treatment plan, this may involve one of the following All-on-4® techniques:
Upper Arch Replacement: Patients needing a new set of upper teeth will undergo an upper arch replacement.
Lower Arch Replacement: If a patient has tooth damage concentrated in their lower teeth, they will receive a lower arch replacement.
Full Mouth Restoration: Should both the upper and lower arches need work, a full mouth teeth replacement may be recommended.
In some cases, the entire All-on-4® process can be completed within a 24-hour period. Patients will wear a temporary restoration as their implants fuse with their jawbone over the course of four to six months. After this time, the final restoration that has been tailored to look like their natural, healthy teeth will be placed.
How Much Do All-on-4® Dental Implants Cost?
Since the details of the All-on-4® procedure are customized to each patient's needs, the total cost will vary from case to case. Factors that may influence the cost include:
Preliminary dental work, like atraumatic tooth removal, ridge augmentation, and gum disease treatment
Laboratory costs for the custom-made restoration
Number of dental implants needed to support the denture
Expertise of the oral surgeon and restoring dentist
Implant dentures, such as the All-on-4® system, are a more cost-efficient solution for patients needing to replace the majority of teeth within an arch. Although it may seem unnecessary to replace a full arch when teeth are still present, repeatedly fixing these remaining teeth ultimately costs more over time. With All-on-4® dental implants, patients can significantly improve their oral function and aesthetic with long-lasting results.
During the initial consultation, Dr. Lauer will provide a comprehensive view of the All-on-4® system, going over the benefits of choosing the solution as well as potential side effects. After determining the specifics of the patient's treatment plan, he can provide a personalized cost quote.
To learn if All-on-4® is the best solution for your needs, please contact Precision Periodontics & Implant Dentistry to schedule your appointment with Dr. Lauer at our Jupiter office.