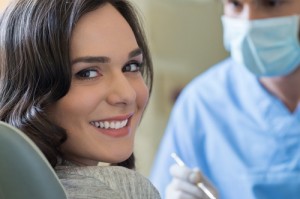 If you've noticed your gums have been receding – whether from periodontal disease, trauma, or another cause – you may need to consult with a dental professional to learn if your oral health is at risk. Mild forms of gum recession can often be treated with nonsurgical approaches including bite adjustments or a biteguard to reduce excess forces on teeth. Moderate to severe recession, however, may require more in-depth treatment methods.
In the past receding gums were often corrected with surgical gum grafting. This involved taking a tissue graft from another area of the mouth (usually the palate) to transplant to the location of the recession to help rebuild the area. At Precision Periodontics & Implant Dentistry, Dr. Daniel Lauer also offers regenerative gum therapy using Emdogain™ to help regrow the gum and bone receded in the area affected. This non-invasive option entails Dr. Lauer placing the protein-based gel around the affected teeth and gums. Over the course of a few weeks, the tissue begins to repair, and after several months, you should see optimal results.
The best treatment for your gum recession will ultimately depend upon your unique needs. When you come in for your appointment with our periodontal specialist, he will help you determine how you can restore your lost gum tissue for a healthier, more aesthetic appearance.